Hello everyone! My name is Katie Nakamura, and I am one of the teachers at Knock Knock. I hope everyone is doing well and having a good week!
I was born and grew up in Long Beach, California, and studied music there since childhood. There are many different types of music that are popular in the United States, but I learned a lot of classical music, fiddle, and jazz. I was lucky to have a lot of support from my family, teachers, and friends! I got to experience different kinds of music and many different and fun things!
Here are a few videos of different pieces of music I have played! Feel free to listen if you would like! I sometimes bring my violin to Knock Knock, and if you would like to hear it before or after class please let me know! I would love to play for everyone here!
A Concert in Paris, France: Carmen Fantasy
I was very fortunate to be able to play music in and visit Paris, France when I was in high school! Here is part of one of our concerts! The music in the video is called Carmen Fantasy. It is from an opera, a type of music that is like a play and tells a story. The story takes place in Spain, and is exciting but also sad. What kind of story does this music remind you of? I think it sounds like dancing!
My favorite things about France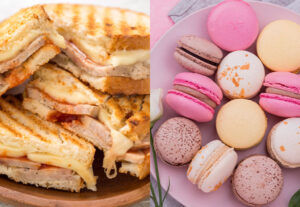 My favorite things about France were the places and food! There are many beautiful museums and buildings in Paris, including the Louvre Art Museum and the Eiffel Tower. But all of the buildings were very beautiful!
One of the foods that is popular is macarons. They are very yummy in Tokyo as well! Another food I liked in France was the croque monsieur. It is a sandwich with ham and cheese! It was very delicious!
Music for Any Size Groups: Sibelius Concerto
This is a piece called a violin concerto. A concerto means a long piece of music for one person, sometimes with another person playing piano or even a group of many people! The person playing alone is called a soloist. I like to play alone, but I also like to play in a group, too! What do you like to do by yourself? What do you like to do with friends?
Sibelius, the person who wrote the music, is from Finland. It is a country in Europe and is very cold! When you hear the music, do you think it sounds like a cold day?
Let's Travel By Train: The Orange Blossom Special
This piece is called theOrange Blossom Special. It is a fiddle song about a train in the United States that went between Florida and New York.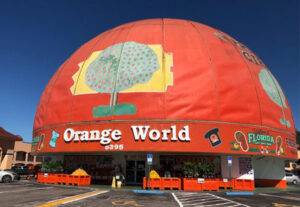 It is called "Orange Blossom" because Florida is famous for growing oranges! For fiddle players, one of the types of music in the United States, it is one of the most popular songs. It is also one of my favorite songs!
What is the difference between a fiddle and a violin? They are actually the same instrument, but you can play many different things with it! Because of this, it is called a different name for different songs!
Youthful Music: Mozart Concerto
This piece was written by a person named Wolfgang Amadeus Mozart. He lived over 200 years ago, but his music is still enjoyed today! When he was very young, he liked playing and writing music with his parents and older sister. I like playing his music because it is fun! What music do you like?
W. A. Mozart wrote this music when he was only 19 years old! I was very interested in Mozart when I was growing up because he wrote and played music when he was still very young. I liked that he was funny and had a lot of jokes and funny parts in his music. He even wrote variations (the same song but with a change every time) on a famous song: "Twinkle Twinkle Little Star"! Do you like this song too?
At Preschool Class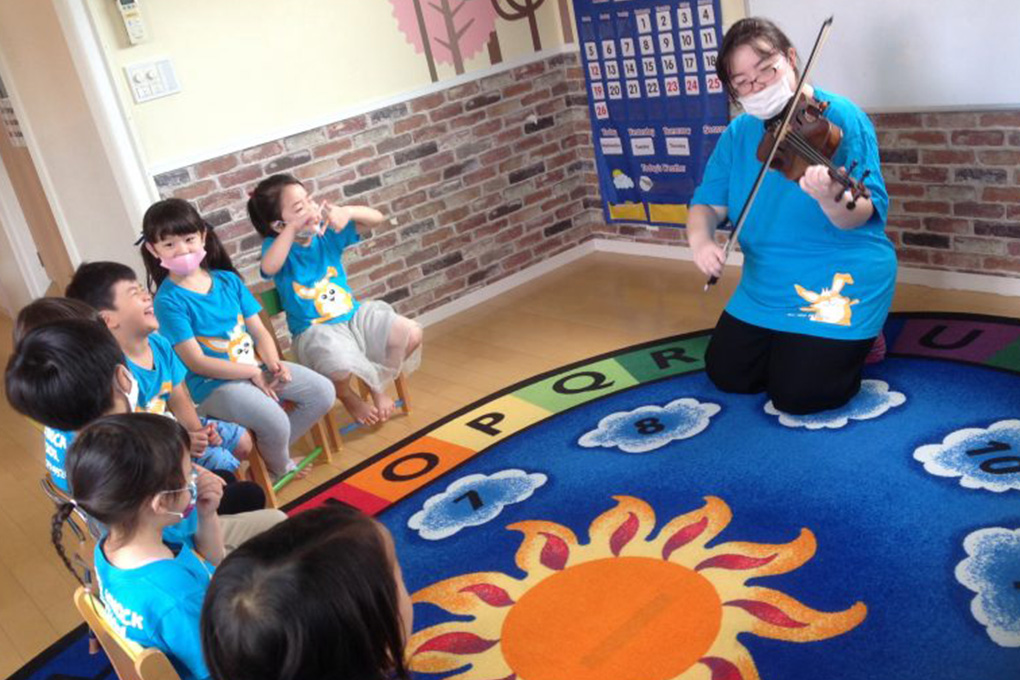 When there is time in class, I sometimes play music for KKE and KKP students! I love playing music that the students enjoy and learning songs used at Knock Knock, such as the Super Simple Songs. If you would like to hear me play in class please let me know, I would love to play for everyone at Knock Knock!
Related Articles

一緒に読みたい関連記事